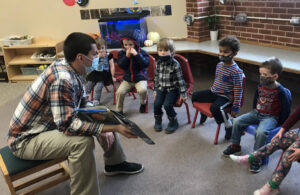 Welcome to 2021!
2020 was a terrible year from many perspectives, with civil unrest, murder hornets, wildfires, the COVID19 pandemic, and the associated problems (food and toiletry shortages, layoffs, homelessness) all conspiring to make our lives difficult. It's easy to focus on the hardships and struggles of the past year.
It's very easy to be negative, in the face of bad things happening. And it takes courage to be positive in the light of hard times. Right now, our kids need us to model resiliency and confidence as we fight our way through the troubles we're facing. It's a good time for our kids to see that even when things get bad, coming together as a family with optimism and determination have transformative powers. We are modeling this for the children in our care each day.
We at Creekside have a lot to be thankful for as we close the door on 2020. We've managed to retain much of our staff, despite our numbers dropping off as families moved, worked from home and struggled to stay safe in the time of COVID19. We are still offering flexible customized scheduling for our families and are happy that our families like that convenience. We're so happy to see everyone, glad we are open again, and glad parents are getting back to work, moving our lives closer and closer to the sense of normalcy we once had.
We have managed to remain COVID19 free (knock on wood), and we continue to maintain high safety standards at Creekside. This is not just due to the staff. It also comes from the good practices towards hygiene our parents are teaching their children and our children are bringing into the school. We are grateful to be able to be a part of the education and growth of your wonderful, imaginative, terrific children. For that, we are most grateful.
Thank you for continuing to put your trust in us as partners in your child's development. If your children aren't currently enrolled, and you'd like to discuss a place at Creekside Kids for your child, we'd like to invite you to schedule an appointment. Let's get to know each other! We're located at 1201 W. Cheyenne Road, Colorado Springs, CO 80906, and we can be reached at (719) 635-9111. Our normal hours of operation are 6:30 AM until 5:45 PM, Monday through Friday; however, we have a shortened schedule during COVID of 7:00 AM to 5:30 PM.