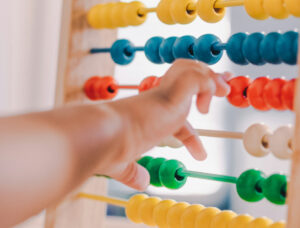 Photo by luis arias on Unsplash
HAPPY THANKSGIVING 2023! As we feast with our extended families today and pay tribute to the many blessings in our lives, our children are already eyeing the signs of the coming holidays. 
Even as we enjoy building sweet memories and honoring our traditions, most of us are bracing for tomorrow's building pressures and excitements, otherwise known as Black Friday. Our kids don't understand this complicated set of joys and heartaches yet, but someday, they'll be right where you are, trying to show their immeasurable love to their child and hoping not to disappoint them when gift-giving for the holidays.
One significant caveat to remember is that the early childhood years are crucial for building rituals, rhythms, and relationships over getting a lot of toys. The neural development related to close connections through cooking, taking walks, raking leaves, snuggling, and reading together will reverberate through their lives for years to come. Not all gifts are tangible and cast in plastic; the gift of time and love is what children most crave.
As caregivers at Creekside Kids, parents often ask us for advice on great seasonal gift ideas. We always strive to provide our children with entertaining toys that promote their learning and development. That's why, ahead of Black Friday, we've compiled a list of holiday gifts that meet the Reggio Emilia standards, a child-centered approach to education that emphasizes creativity, self-expression, and discovery.
Toys from national retailers such as Fat Brain Toys, Montessori Toys, Hearthsong Toys, Smiling Tree Toys, and A Toy Garden are a great place to start when looking for Reggio Emilia-inspired gifts. These brands offer various toys and games that foster creativity, imaginative play, and hands-on learning.
Glow-In-The-Dark Clock Puzzle: We particularly love Fat Brain Toys' Glow-In-The-Dark Clock Puzzle. The puzzle features a beautiful clock illustration and its components, including hands, numbers, and mechanisms. The pieces are made from wood and have a smooth finish that's easy for little hands to grasp. It also comes with an activity guide showing kids how to construct their clocks using puzzle pieces. This would be perfect for kids who love exploring how things work or those who want to learn more about timekeeping.
Magnetic Maze: Montessori Generation has a wonderful Magnetic Maze puzzle in the shape of various animals that helps children use logic and coordination to resolve a problem. (In particular, we're fans of the monkey puzzle!)
HugglePod Deluxe Canvas Hanging Chair – If you can't build a tree fort where you live but have some trees to call your own, Hearthsong Toys' HugglePod Deluxe Canvas Hanging Chair provides kids with their own little fort off the ground! It's a cozy, calming space for children to curl up with a good book, with the sun warming them inside. Sturdy and rugged, the HugglePod can withstand the weather– but don't leave it out in a windstorm.
Spell Well Name Puzzle – Smiling Tree Toys offers this beautiful, personalized name puzzle. Made of high-quality solid wood with rounded corners and beautifully colored letters, the name puzzle is a perfect way to help your child learn their name while also having fun! The letters are big enough for small hands to handle easily.
Cork Boat Kit: We're big fans of A Toy Garden's Cork Boat Kit. The craft is easy enough for kids to do on their own, and the finished product is a sturdy little rowboat that will float in any water-filled container. The kit has everything you need: cork pieces, paints, brushes, and more.
In Colorado Springs, we are lucky to have some fantastic local toy sellers who share our commitment to child-centered learning. Little Richard's Toy Store is an excellent option for wooden toys and games that promote imaginative play. We love their selection of play kitchens and dollhouses, providing a fun and engaging environment for children to act out their stories and scenarios. Discovery Toys is an alternative that inspires excellent creativity and problem-solving and is a bit more science-based. Our local partner at Discovery Toys is Joyce Stoffey, an expert on their line of educational toys.
Whether shopping at a national retailer or exploring your local toy stores, remember to look for gifts that inspire your child's imagination, creativity, and love for learning. Happy holidays and happy shopping!
If you'd like to discuss a place at Creekside Kids for your kids, we invite you to click this embedded link to schedule an appointment. Let's get to know each other! Like us on Facebook to follow our stories for news and updates. We're located at 1201 W Cheyenne Road, Colorado Springs, CO 80906, and we can be reached at (719) 635-9111. Our new hours of operation are 6:45 a.m. until 5:45 p.m., Monday through Friday.