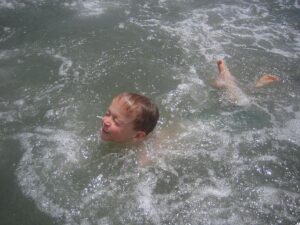 Summertime is here! As our kids turn to wading pools, swimming pools and creeks to cool down this hot summer, it's the right time to consider the dangers; specifically, the threat of drowning, and understanding the missed indicators of danger to your child. Drowning is thought to be a loud, noisy, splashy moment; in reality, most drownings are quiet and sudden.
Understandably, drowning is something we worry about, but also believe we can prevent with casual supervision. But statistically speaking, children younger than one-year-old are more likely to drown at home. Without the proper training, it's not easy for a parent to recognize the signs that their child is in trouble. A splashing, playful kid can look just as in danger as one in trouble if you can't read the signs.
The signs that a child is drowning are mostly about their posture in the water and are very subtle. They can happen right in front of people who don't know what to look for. Here are the common signs of a child in water distress:
Gasping —

children with clear lungs can speak as they swim; a gasping child may be taking on water and struggling for breath.

Mouth —

if your child's mouth is at water level, that can be an indication that the child is having trouble keeping their head above water. If your child's mouth is hovering at the water level, your child may be in need of rescue.

Arms —

if a child's arms are out to the side, it's an indication that they aren't actively trying to swim. If the arms seem to flap like wings, it may be an attempt to signal for help that is being thwarted by the water overtaking them.

Head —

when a child's head is tilted back as opposed to level, that's a possible sign they may be in trouble and taking on water. Equally, it can just be floating– if the child is active, they are likely okay; if they are still with a tilted-back head, they may need assistance.

Vertical —

if your child is vertical in the water, there isn't enough motion to suggest they are in control of their swimming and may be in trouble.
A child with a vertical body with arms out to the side and a mouth at the water line is definitely in need of assistance. There are also dangers that can come after a swim: dry drowning and secondary drowning. 
Dry drowning means that you can drown far from any body of water. You can drown in a gulp of water that causes your child's vocal chords to constrict. Water never reaches the lungs, but neither does  the oxygen they need to survive.
Secondary drowning is when water does get into the lungs, and takes up residence, leading to fluid build up and death. A child saved from drowning in a body of water can still go to sleep and later drown in their own fluids.
We can never provide absolute safety where swimming is concerned. Swimming with trained lifeguards on duty is the safest way to take your child swimming. As parents, we need to have awareness and vigilance, and teach our friends and kids to look out for each other, too. Please feel free to pass this blog on to all of your friends with kids who enjoy swimming! We want this summer to be safe for you and your kids. 
If you'd like to discuss a place at Creekside Kids for your kids, we'd like to invite you to click this embedded link to schedule an appointment. Let's get to know each other! Like us on Facebook to follow our stories for news and updates. We're located at 1201 W Cheyenne Road, Colorado Springs, CO 80906, and we can be reached at (719) 635-9111. Our new hours of operation are 6:45 am until 5:45 pm, Monday through Friday.