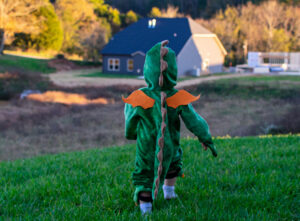 Halloween conjures images of children running through the streets as October arrives, going door-to-door in small groups. It's uncertain if this year will produce much of a "Spooky Season" turnout, but we'll bet that kids will still be dressing up in costumes, watching child-friendly monster movies, and enjoying candy and a few good scares.
The spooky season is fundamentally good for kids. It's a staging ground for dealing with fear and anxiety only once a year so that kids have time to process what they learned (fear is survivable, and I'm going to be okay) and feel braver the following year. Kids learn to trust their community, but they also learn to look for outliers and inappropriate people within their community too.
Sometimes, your child will hang on to their spooky season costume just a little longer than expected. They'll want to play in their costume deep into November. We encourage you to let them enjoy their costumes! Here's why:
Costumes spark the imagination. A playworld surrounding a superhero costume can help a child develop problem-solving skills. The stories we learn as children generally involve a challenge to our happiness; kids will put on an outfit and invent their own challenges, only to defeat them.

Costumes help with skills development.

Our children develop many different skills when they play in costume together. To play cooperatively and make a storyline that makes narrative sense, they must learn creative thinking and social skills. As given characters come with behavioral rules, they learn self-regulation skills, communication skills, language development, teamwork, cooperation, and sharing.

Costumes help children develop motor skills.

The putting on and taking off of outfits can be somewhat hard to do, and children who play in costumes learn to work with velcro, buttons, and zippers.

Costumes allow children to examine themselves differently.

Even very young children understand that a Fireman dresses differently than a soldier, and both are responsible for different things. Putting on the costume allows a child to imagine themselves in a different role. In this way, it inspires empathy, too.
Ultimately, there will come a time when the kids have to give up costume play or restrict it to certain portions of the day– in part to preserve the work it can create for you, and in part to maintain their costume if they truly love wearing it. But try to let them hold on a little longer if there's something on their mind; perhaps they are working out a mystery in their mind we can't yet understand!
If you'd like to discuss a place at Creekside Kids for your kids, we'd like to invite you to click this embedded link to schedule an appointment. Let's get to know each other! We're located at 1201 W Cheyenne Road, Colorado Springs, CO 80906, and we can be reached at (719) 635-9111. Our regular hours of operation are 6:30 am until 5:45 pm, Monday through Friday; however, we have a shortened schedule during COVID of 7:00 am to 5:30 pm.