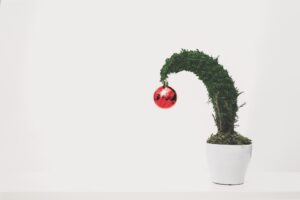 The Holiday Season is here! For many families, that includes letters to Santa, nighttime drives down streets with houses trimmed in Christmas lights, and anticipation of gifts and sweet traditions to come. It's time for joy, family, and happiness.
But even though we mean for December to be full of joy, it's also a tough time for many people. The expectations put on parents to be happy and make others happy can be brutal, especially for someone going through grief, anxiety, or depression. People fight over the silliest things, especially when we are (yet again) amid record-high COVID cases, job insecurity, and inflation.
We've all seen the recent rise of the 'Karen': the irrational woman who turns up on camera demanding the world behave to their specifications. (Or the 'Ken,' the male version, frequently given to resorting to violence when he doesn't get his way.) With politics so polarized since the advent of social media, it's effortless for a simple misunderstanding to turn into an unfortunate, ugly altercation. Some people walk out of their homes like ticking time-bombs, waiting for one perceived grievance to set them off. The holiday season only makes this more fraught with negative energy, which our children can feel and sometimes witness. Plus, none of us want to raise our children to become demanding, stressed-out people.
For that reason, we need to focus not just on the trappings of the season but also on the spirit of community and kindness that Christmas, Chanukah, Kwanzaa, Rohatsu, and Solstice engender. We need to extend love and understanding to people who are upset and angry toward others — and we need to show this to our children.  
Children can sense when people are stressed and upset; far better than we realize. Being a verbal role model for your children is the healthiest way to teach them how to handle big emotions. Talking to children about stress and labeling the actual emotions you or another person feels is critical to teach them how to accept, manage, and communicate their emotions; without tantrums. Helping your child label their feelings when they are mad is one of the best things you can do. One way to do this is to say, "Your face looks like this (show them)," "Your body is doing this (show them)," and "Your voice is doing this (show them)." "Are you feeling frustrated?" "Is your frustration turning into anger, or are you getting sad?" "How can I help you?" 
If a meltdown occurs, find a moment to hold your child while they are still upset and rock them until they can breathe a bit, and then talk about the things mentioned above, going through the labeling process with them. Then, once calm is restored, talk about the feelings again and how they feel now. Reassure them that it is always okay to have big emotions and that it is essential to practice managing them. Be sure to say you are there to help them.
Conversely, if your child sees you have an argument or is angry/frustrated with someone, talk about it afterward. It's okay to tell your child something like, "My chest felt tight, and I was squeezing my hands into fists. My voice got loud, and I said things I didn't really mean. At first, I was frustrated with that person, and then I started getting angry because they wouldn't listen to me. It didn't feel good, and I felt a little out of control. I'm still learning to manage my big feelings, too, sometimes. I'm feeling better now, and I'm sorry that I did that in front of you. Would you like to talk about how you felt about it?"
It's a BIG ask. But in the spirit of the holidays, try to reset people, young and old, who are disoriented (having a meltdown/very angry) with love and patience. By coaching and labeling those emotions and their physical effects, you will raise self-aware children.
For more resources, check out these valuable resources: 
https://www.simplicityparenting.com/
https://www.mindfulmamamentor.com/blog/Resources/podcast/
https://www.youtube.com/watch?v=b26fQNtr23Q
https://www.youtube.com/watch?v=_9voQuCQDfg
https://www.youtube.com/watch?v=ZG16UY-u4KQ
 If you'd like to discuss a place at Creekside Kids for your kids, we'd like to invite you to click this embedded link to schedule an appointment. Let's get to know each other! Like us on Facebook to follow our stories for news and updates. We're located at 1201 W Cheyenne Road, Colorado Springs, CO 80906, and we can be reached at (719) 635-9111. Our regular hours of operation are 6:30 am until 5:45 pm, Monday through Friday; however, we have a shortened schedule during COVID of 7:00 am to 5:30 pm.