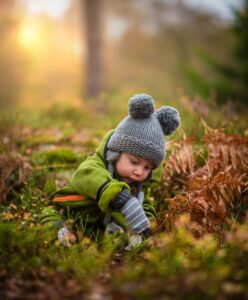 For our February blog, we'd like to bring up a concept that we think many parents will appreciate and take something good from: simplicity parenting. 
Simplicity Parenting is a book by Kim John Payne, M. ED., that focuses on organizing your child's life into four 'realms' and simplifying those realms for your child. The realms are Environment, Rhythm, Scheduling, and Unplugging. By making these realms simple and easy, your children have a better chance of living without stress enabling them to feel capable and connected.
These four realms are simplified like this:
Environment: when you declutter the environment, there's less to distract and disorient the mind. It's the difference between the jungle and the clearing.
Rhythm: consistency in your rituals and daily life make your child's world calmer and prepares them for what to do when the rhythm is out of synch.
Scheduling: life can sometimes be turbulent and chaotic, so add to the calm by planning 'moments to Be' into everything you have to do.
Unplugging: disconnecting from the outside world, adult concerns, consumerism, and other complications will directly benefit your child's social and emotional wellbeing.
This kind of simplification takes many forms. Eliminating errands and interruptions that make your days erratic are key. Make daily, weekly, and monthly rituals that support your child's sense of space, values, and time management.  Additionally, teach your children to assist you from a young age in clearing out clutter and planning for the day or next day. Children–even very young children, need to feel valued and as contributing family members versus honored guests or "pets."  Pay attention to factors that are trying to pull you away from the goals that support simplicity parenting in your home—don't let someone else's boredom, needs, or judgement impact the stability and simplicity you are creating at home.
SimplicityParenting.com finds that kids with simplified lives benefit in the following ways:
They're calmer and happier

They do better socially and emotionally

They're more focused at school

They find it easier to comply with family rules

They tend to be less picky eaters
And also report that parents who utilize Simplicity Parenting report that they:
Have a clearer picture of what they value as parents

Are more united with each other in their parenting

Have more time and energy for connection, relaxation, and fun
If you'd like to discuss a place at Creekside Kids for your kids, we'd like to invite you to click this embedded link to schedule an appointment. Let's get to know each other! Like us on Facebook to follow our stories for news and updates. We're located at 1201 W Cheyenne Road, Colorado Springs, CO 80906, and we can be reached at (719) 635-9111. Our regular hours of operation are 6:30 am until 5:45 pm, Monday through Friday; however, we have a shortened schedule during COVID of 7:00 am to 5:30 pm.