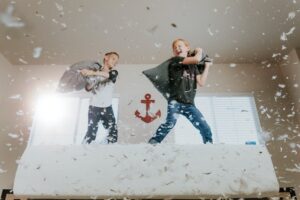 It's considered part of our job as parents to expose our kids to all sorts of activities, sports, and new experiences in modern America. 
As parents ourselves and as co-learners alongside your amazing children, we know first-hand that parenting isn't an easy role. We're responsible for the development of a separate personality– and that can be daunting in our modern world in which there is 24-hour per day access to media and even many activities.  In America, we have plenty of opportunities and to deny a child the chance to see a live performance, go to a museum, learn an instrument, play sports, swim lessons, karate lessons, etc. from an early age feels as though we might be risking their future success. 
We've been anxious parents trying to fill every moment of our children's day with stimulating activities, and we've seen others do it too on this same mad dash to nowhere. It's time to slow the pace for our little ones through their early childhood years and trust that their brains are meant to develop slowly and without 24/7 stimulation.  So how do we navigate these waters?
We're in a new age of media, one based on endless choice and instant gratification.
Our parents waited years for films with the same cast as our favorite matinee feature to be made, and there was no guarantee they would ever see those films in the end. Even beloved comic books came out once a month. Football games were played and televised on the weekends and only during the season.  TV shows played once and if you missed it you missed it.  There were a few video games but they were primitive.  The newspaper came once per day and the news was on once or twice at night.  Most TV channels stopped playing content at 12:00 a.m. until early the next morning.  Children were taken to live shows on occasion and may or may not have had music or dance lessons.  There were team sports but not for preschoolers.  Everything was slower paced and later in a child's life.
Our generation saw the demise of the slow life.  We're an OnDemand world that no longer waits for gratification. And we're raising children in this same environment of media saturation. 
How are our kids learning and growing in this new age?
It can be great to have a continuous feed of entertainment for kids when we're busy with tasks. But overstimulation can block creativity in our kids. For the most part, modern entertainment pacifies but doesn't challenge our kids to grow and explore. 
Our kids are stressed out earlier than in previous generations and so are parents.  We are seeing more and more parents of young children (through at least the early years of elementary school) who are getting off the merry-go-round of endless activities/sports/lessons for their children and thriving as families and happy people who live quieter lives.  There is an adjustment period while everyone unlearns dependence on media and learns to be comfortable with the quiet times.  The children tend to adapt more quickly and fill the media/activity void with their imaginations and creativity.  Adults tend to take longer but if they lean in and participate in the imaginative play of their children close bonds are created.
The best part of escaping the rat race of parenting is that the neural pathways in the brain which seek stimulation from media and instant reinforcers grow weaker and the neural connections in the brain which seek stimulation from interactions and relationships grow stronger as we disassociate from constant stimulation and activities.  Children become more innovative and connected with their families.
The answer may be
to let them be bored
. 
It seems kind of counterintuitive to simply not plan for the busy hands of young pre-school children to be engaged. But humans are an ancient species whose brains have historically developed without constant stimulation and activities.  It's what we are designed to do.  We are designed for a slower life filled with rhythm, routine, and time for storytelling and the arts along with nights spent around a fire being close and connected.  In our modern world, allowing children to be at loose ends and bored is actually a gift.
To quote Cori Berg, "Young children need large blocks of uninterrupted time with many opportunities to make their own choices.  Preschool shouldn't look like high school switching from class to class." Without taking choice away, we can guide them to socially-responsible choices and teach them both trust and creative use of our time.
Overscheduled kids can stall the development of a young mind. We need to allow time for kids to be still. Boredom inspires creativity and builds imagination. It's about regulating your own pace when you have time to reflect on it, and it's a deep lesson that our children can learn by experience. Work on setting boundaries for your kids about what they can do in their unscheduled hours, instead of setting up activities just to keep them occupied.
If you'd like to discuss a place at Creekside Kids for your kids, we'd like to invite you to click this embedded link to schedule an appointment. Let's get to know each other! Like us on Facebook to follow our stories for news and updates. We're located at 1201 W Cheyenne Road, Colorado Springs, CO 80906, and we can be reached at (719) 635-9111. Our regular hours of operation are 6:30 am until 5:45 pm, Monday through Friday; however, we have a shortened schedule during COVID of 7:00 am to 5:30 pm.