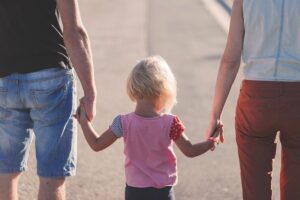 It's a new era for kids
Life is a constant state of seeing new possibilities and learning from past mistakes. There's a time to tear down the old standards and make room for better ideas. This is true of many things, and one of them is childcare. As I was writing this article, a favorite song came to mind:
It's a new dawn
It's a new day
It's a new life for me
— "Feeling Good"
Anthony NewleyLeslie Bricusse
Living in the 21st century has so many advantages however there are many societal norms which have created unexpected disadvantages.  Most of these issues come from the difference in how we were raised to what we know today about how to raise thriving children. 
We've had to contend with our own upbringing and learn from the mistakes our parents made. And as uncomfortable as it makes us, we must accept that our own parenting will come with mistakes of its own, for multiple reasons– clinging to past ideas, pressing into new ones, and dealing with the difference in a changing society.
This is an especially hard time emotionally, as our children are all post 9/11, in a new political era, and are still reeling from the behavioral norms and societal fissures created by the COVID pandemic.  Old norms of how we treat one another have been rewritten. We are tasked with understanding the differences in now and then, and accepting that what may have worked for our own parents may cause harm in a different era as well as understanding that that some of what did work for our parents and grandparents had to do with connection and closeness.
I've discovered a book that meets the challenges of this time, and want to recommend it to parents who are looking to keep up with the times for their children's better development.
Childcare is an Evolving Science
We learn more day-by-day about how children learn, grow, and thrive. In his book "21st Century Parenting: A Guide to Raising Emotionally Resilient Children," Dr. Rick Capaldi outlines the importance of building emotional resilience in children and provides practical strategies for parents to do so.
One key aspect of 21st Century Parenting is understanding that emotions are not inherently good or bad, but rather a natural response to our experiences. As such, Capaldi emphasizes the importance of teaching children how to manage and regulate their emotions rather than suppress them. 
He also highlights the role of technology in modern parenting and offers tips on setting boundaries while allowing children to benefit from its advantages. Furthermore, Capaldi stresses the significance of fostering strong relationships with both parents and peers as well as promoting a growth mindset in children. 
One of his most important ideas is that "when your child is in school, you are in school, too". If you want the best outcome for your child, you must accept that you don't have all the answers and prepare to engage with your child in a way that brings you both understanding and enlightenment. Only by taking an active role in your child's education will the family achieve success in their mutual education.
Overall, Capaldi offers a comprehensive approach to 21st Century Parenting, providing valuable insight and practical advice for parents looking to raise emotionally resilient children.
It's time to let go of the past
Dr. Spock has had his time, and was extremely helpful for new parents in his era, but in a post-Spock world, it's time to look to new, research-based thinking in how to supply our children with the tools to handle the complex new world they've inherited. 
If you'd like to discuss a place at Creekside Kids for your kids, we'd like to invite you to click this embedded link to schedule an appointment. Let's get to know each other! Like us on Facebook to follow our stories for news and updates. We're located at 1201 W Cheyenne Road, Colorado Springs, CO 80906, and we can be reached at (719) 635-9111. Our new hours of operation are 6:45 am until 5:45 pm, Monday through Friday.