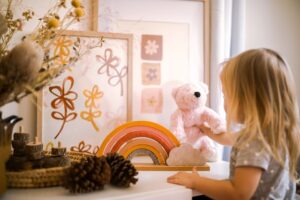 part 1 of a 2-part series
At Creekside, our co-learners spend a great deal of time playing and learning from your child about their worlds and views. Things have not been the same for us since March 2020, when COVID-19 first began to affect our way of life as Americans.
Teachers and administrators have just begun to notice the differences we've seen since school shutdowns and isolation have inflicted upon this new generation. 
We've noticed that there has been an enormous change in kids since COVID-19 first struck North America. Kids have lost many of the social skills we at Creekside Kids used to help refine at this point in their development. The long isolation has changed a generation of kids. We must reconcile this information as our kids advance into kindergarten and later.
The Long-Term Fallout From the Pandemic May Take Years to Realize
During the Pandemic, infants and toddlers had limited social interaction with each other. In isolation or even a year later, as we dealt with shutdowns, our kids suddenly lost the reassuring guidance of growing up next to each other and learning from each other. We see this manifested in the increased number of children who have difficulty sharing and taking turns. As Jennifer Barnes, founder and owner of Creekside Kids, said, "Kids aren't reading each other's body language. Some struggle to cooperate purely because they haven't practiced cooperation yet."
In the Pandemic, cooperative and group play-based learning was keenly missed. As we instruct them now, the COVID generation finds play-based learning more complicated than their predecessors. They've missed the entry cues that their older brother and sisters had all along. Bottom-of-the-pyramid skills are missing due to the lack of social interaction, which finds us teaching kids to coexist instead of thriving together. 
A Delayed Generation
Jennifer considers the new issue to be about learning basic skill sets long after children usually acquire these skills. "The kids didn't have those typical playground/at the park experiences that toddlers used to have regularly in which one kid takes another kid's toys or pushes into another child's space or one ends up pushing the other, hitting, etc. Those are natural things little kids learn on their own before coming to preschool, for the most part; however, due to the delay in exposure to other toddlers/preschoolers, our kids are learning this vital process at preschool. The kids can overcome this, but it may make parents feel like their child might be overly aggressive or a bully, or it may make a parent concerned that another child is overly aggressive or a bully. The reality is that the kids just haven't learned those skills yet due to isolation. They're on delay."
Many kids have experienced high-stress levels, especially those going from being one-on-one with a parent to being 17-on-one in a classroom. Our current 3-4-year-olds were used to small groupings or staying at home for about two years–most of their lives! Then suddenly, school resumed. Additionally, the close quarters eroded parents' ability to cope with kids while balancing staying home and/or working remotely, especially those with special needs. 
How Do We Navigate Our Kids Through This Time?
The most significant step needed with the COVID-19 generation comes in the elements that Reggio Emilia-style learning does best: mindfulness and patience. As teachers or coworkers, we must be aware that disruptive behaviors often stem from the Pandemic's disruption of our kids. We must patiently and openly work to ensure we can supply as much routine as possible. Routine helps kids build understanding and trust in their environment. Life will always be a little different for the COVID generation, but we can get them back to normal with some extra help—and give them a great story to tell their grandchildren!
If you'd like to discuss a place at Creekside Kids for your kids, we invite you to click this embedded link to schedule an appointment. Let's get to know each other! Like us on Facebook to follow our stories for news and updates. We're located at 1201 W Cheyenne Road, Colorado Springs, CO 80906, and we can be reached at (719) 635-9111. Our new hours of operation are 6:45 am until 5:45 pm, Monday through Friday.