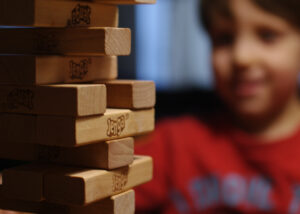 part 2 of a 2-part series
It's hard to prepare kids for their next step in the face of an uncertain future. And while child care and preschool have been around for a long time, it's challenging when our times make it harder to raise our kids to be happy, healthy people. 
Since the Pandemic, Creekside Kids has witnessed the extraordinary effect that months of isolation have had on the growth and development of children in our care. We talked in January's blog about the effect that isolation has had on our kids' social and emotional development, which we are still learning about as we continue to learn alongside the children of COVID-19. 
One area we have yet to consider is the effect that the pandemic has had on their educational development and their preparedness for the exciting and potentially challenging move to kindergarten in their fifth year. This month, we're examining that process, how the pandemic has affected it, and what we as co-learners and you as parents can do to ease the shock of the transition.
It's very true that 3-year-old and 4-year-old children are still forming the toolsets they need to be ready for the next 13+ years of education: being away from their parents, coping with stresses and conflicts, and learning as they go to adapt and thrive. 
The Pandemic greatly affected the students who are in kindergarten or grades 1-3.  Schools across the nation have seen a dramatic rise in mental health issues in young children and a dramatic delay in academic skills.  However, our focus is on the current pre-K students who are the younger brothers and sisters of those significantly affected elementary students.
This "second generation" of COVID-19 students is, thankfully, less affected than their older siblings. They are, however, facing their own set of obstacles as they begin their academic careers. While fewer of these kids have had to deal with wearing masks, they have weathered the ripple effects these changes have sent through our society. Our current students at Creekside Kids are coping with enhanced rules for cleanliness and sanitary practices as well as learning many of the social/emotional skills that they would normally have learned in their first three years. 
Many of our kids have had difficulty adjusting to the new rhythms of pre-kindergarten due to a lack of social development during their first three years of life. We have invented new rituals and rhythms to teach them to work as a group towards mutual goals and to develop their social/emotional skills. Confronting new norms requires us to adapt our efforts to guide our students through the experience and we are seeing great growth in our students. We are truly seeing that the more we can meet the children where they are, the more they'll succeed.  This group of little ones will have a much better educational experience than their older siblings.  
If you'd like to discuss a place at Creekside Kids for your kids, we invite you to click this embedded link to schedule an appointment. Let's get to know each other! Like us on Facebook to follow our stories for news and updates. We're located at 1201 W Cheyenne Road, Colorado Springs, CO 80906, and we can be reached at (719) 635-9111. Our new hours of operation are 6:45 am until 5:45 pm, Monday through Friday.