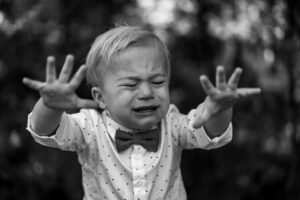 Photo by Zachary Kadolph on Unsplash
Has your preschooler or school-aged child hit the "honeymoon is over" phase of the school year?  Some children adjust very nicely however, like my eldest daughter who decided to quit school after her first year of kindergarten, most kids hit a wall in October in which they realize that the school year can be a long time and involves far more work than they anticipated.
Perhaps it's because they are getting older and have more responsibilities, especially when younger siblings are still in that freedom zone of innocence and unaccountability. Perhaps it's just a matter of having enjoyed months off and being pushed back into what is essentially hard work and complex socialization for a small child. And perhaps it's just part of the growing-up process.
In a few cases, the "honeymoon" ends when a child has an issue such as ADHD/ADD and has established enough trust in a teacher or school environment to stop being hypervigilant and trying to act like a typical peer.  It is exceedingly hard for a child with ADHD or other conditions to keep holding themselves in check for very long and it should not be seen as a negative. 
To minimize the "honeymoon is over" effect when young kids go back to school after a three-month summer break, we recommend you try the following strategies:
Maintain a Routine: Creating a consistent daily routine can help children transition back to the school schedule. This includes setting regular wake-up and bedtimes, planning meals and snacks, and allocating time for homework and extracurricular activities. Keep these active during the summer, even when holidays and special events convince you to suspend these routines.
Keep School in Mind: Engage in open and positive conversations about school with your child during the break. Discuss their expectations, concerns, and any changes they might experience. A light banter all summer long can help alleviate anxiety and build excitement about the new school year.
Visit the school beforehand: Taking your child to the school before the first day can help familiarize them with the environment and ease anxiety about the unknown. Walk around the campus, locate their classroom, and introduce them to their teacher.
Encourage social connections: Help your child develop friendships by arranging playdates or attending school-sponsored events before the school year starts. Social engineering can help them feel more comfortable and connected when they enter the classroom.
Create a supportive home environment: Provide a conducive study space, designate homework time, and show interest in your child's schoolwork. By emphasizing the importance of education and providing support at home, you can help your child maintain a positive attitude toward learning.
Stay involved: Stay in touch with your child's teacher and school community. Attend parent-teacher meetings, join parent groups, and volunteer when possible. Being involved shows your child that education is a priority and helps foster a sense of belonging.
Remember, every child is unique, and it's essential to adapt these strategies to fit your child's needs. Familiarizing yourself with their school's policies and seeking advice from educators or other parents can also provide valuable insights and guidance for a successful transition back to school.
If you'd like to discuss a place at Creekside Kids for your kids, we invite you to click this embedded link to schedule an appointment. Let's get to know each other! Like us on Facebook to follow our stories for news and updates. We're located at 1201 W Cheyenne Road, Colorado Springs, CO 80906, and we can be reached at (719) 635-9111. Our new hours of operation are 6:45 am until 5:45 pm, Monday through Friday.