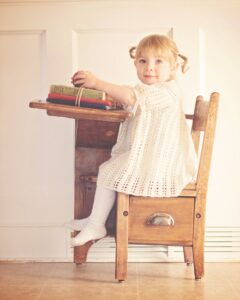 With August arriving, everywhere you go, there are back-to-school sales and events. Returning to primary school can be difficult for older kids, but the transition is especially hard for kindergarteners who are still forming associations and memories in their neural pathways, and who may be feeling worried, anxious, or even scared about what kindergarten will be like.  They will need reassurance and time to talk about their feelings.
Preparing for preschool can be challenging for parents, too. To help make the transition easier, here are some tips and tricks for parents:
Keep within your routine: Start establishing any new additions to your children's daily routine a few weeks before school starts. This includes setting regular bedtimes and wake-up times. Toddlers thrive on predictability and ritual. Consistent routines will help them adjust to upcoming changes.
Talk to them about the experience: Explain to your toddler what school is and why they will be attending. Use simple language and positive words to spark excitement and curiosity. Talk about the fun activities they will get to do and the friends they will make.
Visit the school: If possible, arrange a visit to the school before the first day. This will help your toddler become familiar with the environment, meet the teachers, and see other children in a school setting. It can alleviate anxiety and make them feel more comfortable on their first day. Walking away from a first meeting with a parent after visiting is so much easier than showing up the first day and being left to fend for themselves.
Create a visual calendar: Young children may not fully understand the concept of time. A visual calendar with pictures or symbols to mark the days leading up to the first day of school. This will help them understand and anticipate the upcoming milestone. Counting how many "sleeps" there are before the first day is helpful.
Shop the sales together: Involve your toddler in shopping for school supplies. Let them choose their backpack, water bottle, or lunch box. This will create a sense of ownership and excitement about starting school.
Practice self-help skills: Encourage your toddler to practice basic self-help skills, such as using the restroom, washing hands, and opening lunch containers. These skills will make them more independent and confident at school.
Read books about school: Read age-appropriate books about starting school. This can help your toddler understand what to expect and feel more comfortable about the whole experience. Find books that explore emotions, friendships, and the daily routine of a school day. Try The Nightmare Before Preschool, or Wemberly Worried, or Junie B. Jones Complete First Grade Set for stories that take on the worry and reassure your kids that everything will be okay.
Create a goodbye ritual: Establish a simple goodbye ritual when dropping your toddler off at school. This can be a special hug, a high-five, or a special phrase. Having a consistent and positive goodbye routine will help ease any separation anxiety.
Stay positive: Your attitude towards school will greatly influence your toddler's perception. Stay positive and enthusiastic about school. Share your own positive experiences and reassure them that they will have a great time.
Connect with other parents: Reach out to other parents with toddlers who are starting school. Share experiences, concerns, and advice. Building a support network can be helpful during this transition period.
Remember, every child is different, and it's normal for toddlers to experience some initial hesitations when starting school. With these tips and tricks, you can help make the transition smoother and more enjoyable for both you and your toddler.
If you'd like to discuss a place at Creekside Kids for your kids, we invite you to click this embedded link to schedule an appointment. Let's get to know each other! Like us on Facebook to follow our stories for news and updates. We're located at 1201 W Cheyenne Road, Colorado Springs, CO 80906, and we can be reached at (719) 635-9111. Our new hours of operation are 6:45 am until 5:45 pm, Monday through Friday.