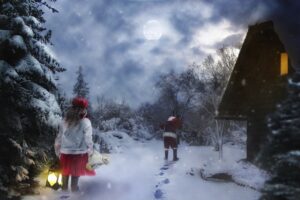 Image by eanechiporenko from Pixabay
It's sad to think of divorce and the Thanksgiving and Winter holidays. Being apart at a time where you want togetherness is hard on everyone. But divorce is a reality of many marriages, affecting children of all ages. Divorce can bring about emotional difficulties, especially during holidays like Thanksgiving, Eid, Hanukkah and/or Christmas. It's essential to be aware of children's potential challenges and take measures to support them. 
Here are some points to address when discussing the emotional difficulties of divorce during Thanksgiving and Christmas:
Acknowledge the Changes.

Divorce significantly changes family dynamics and holiday traditions. Try to keep as many family traditions as possible. Children may struggle with the loss of a unified family unit and the changes in their holiday routines. They may blame you, or your ex-spouse. Or they may even blame themselves for the split. Empathize with your children's feelings and validate their emotions during this time. Let them, and yourself, off the hook.

Communication is Critical.

Focus on open and honest communication between co-parents. Try to set aside any personal conflicts and work together to create a holiday schedule that is fair and equitable for the children–and also honors the wishes of the children. As much as possible, include the children in the planning of events.  Some divorced couples are able to celebrate holidays together so that the children don't have to have two separate Christmases/Haunnukas/Eids and pretend like they are happy at both or don't prefer one over the other. Build a safe space for your children to express their emotions. Listen attentively and provide reassurance and support. 

Provide Consistency and Routine.

Emphasize the importance of maintaining a sense of routine and consistency during the holidays. If the time is right, establish new traditions or preserve familiar ones that provide the children a sense of belonging which can be hard if the children move back and forth.

Avoiding conflicts.

Prioritize the well-being of children and avoid conflicts during holiday celebrations. Set aside any disagreements and focus on creating a positive and peaceful environment for the children to enjoy the festivities.

Consider 'Blending'.

The one-holiday-on, one-holiday-off nature of custody arrangements can be challenging for everyone. If you and your co-parent have an amicable relationship, and enough time has passed that children will not be confused, consider forming an agreement where the hosting parent can allow the co-parent to come over and enjoy some holiday time together. Blending is especially an excellent step to take at Thanksgiving dinner, where it can teach a lot about the nature of the occasion—sharing a feast with all the relatives even if we don't all get along all the time.

Ease off the Pressure.

Pressure is on kids and parents to perform during big holiday functions. Give yourself grace as a parent and don't worry about everything being perfect.  Gifts can sometimes be seen as conditional and dependent on emotional/behavioral compliance. Take time to let your children know that you're there to support them and that it does not matter if they finish all their math homework or go on a pumpkin-picking trip with Grandma. The holidays are a time for families to come together; it doesn't have to be perfect.

Create New Traditions for Any That the Divorce Has Damaged.

Work with your kids to replace those traditions that cannot continue with an ex-spouse with new ones that affirm your family without obscuring or diminishing your parenting partner.  Perhaps you have remarried and can negotiate over what traditions to establish for your blended family.   

Seek Additional Support (if needed).

If you feel overwhelmed or unsure how best to support your children during the holidays, seek help from a licensed therapist or counselor. These professionals can provide guidance and strategies to help you and your children navigate the emotional difficulties of divorce during Thanksgiving and winter holidays.
If you'd like to discuss a place at Creekside Kids for your kids, we invite you to click this embedded link to schedule an appointment. Let's get to know each other! Like us on Facebook to follow our stories for news and updates. We're located at 1201 W Cheyenne Road, Colorado Springs, CO 80906, and we can be reached at (719) 635-9111. Our new hours of operation are 6:45 a.m. until 5:45 p.m., Monday through Friday.