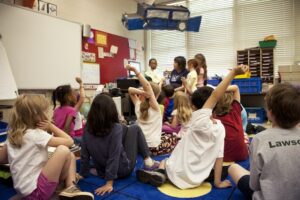 Setting Sail On The Right Ship
As the standard school year comes to an end, some of our learners are beginning to move off to kindergarten at last. We're sad to see them go, but so proud of how much they've learned! We've enjoyed watching them grow from late toddlers into little kids, and are excited to see what their futures hold.
There's so much information that you need to know before picking a kindergarten for your kids. It's a big step for your child, and you want to make sure they're in the best possible environment. This may mean  a great deal of worry for parents as they navigate the many choices available to them. 
The best kindergarten for your individual child can provide  your child with the necessary tools to succeed in school and beyond. It is important to choose a school that will help your child develop their social/emotional awareness, academic knowledge, and confidence.
Here are some things to consider when choosing a kindergarten:
How long has the school been in business?

Is it new and finding it's way, or established and with a good reputation? Is it fully staffed, or struggling with the numbers it has? Do they have the resources that they need to handle the kind of numbers they are accepting?

Does it have any accreditation from the state or national level?

Is it funded and approved by the

Colorado Department of Education

or is it privately funded and financially stable

What is their curriculum like?

It's important to know what kind of academic standards will be expected for your child. Is it in the Reggio Emilia style, like Creekside Kids? Is it Waldorf, Montessori, STEM, or Visual and Performing Arts related? All of these options are important to finding that place your child will thrive in.
Resources and Assistance With the Big Step
Parents in the Colorado Springs area can consider several factors when choosing the right kindergarten for their child. Some of these factors include the school's curriculum, class size, teacher qualifications, school facilities, location, and cost1. It is  important to research and visit different schools to compare their programs, facilities, and teaching methods before making a final decision. One of the most important things to look for when touring schools is to look at the faces and body language of the children already attending to see if there are lots of smiles and relaxed body language indicating that it is a comfortable place for children.
Parents can also consult online resources such as the Colorado Department of Education's SchoolView2 to access information on school performance and rankings. It is important for parents to realize that these rankings are almost entirely based on standardized test scores which have been significantly negatively affected by COVID over the past few years.  
Additionally, parents should seek recommendations from other parents, friends, or family members who have had experience with the schools in the area3. There's no reference quite like a personal one where you can see a child happy and thriving!
Sources:
If you'd like to discuss a place at Creekside Kids for your kids, we invite you to click this embedded link to schedule an appointment. Let's get to know each other! Like us on Facebook to follow our stories for news and updates. We're located at 1201 W Cheyenne Road, Colorado Springs, CO 80906, and we can be reached at (719) 635-9111. Our new hours of operation are 6:45 am until 5:45 pm, Monday through Friday.