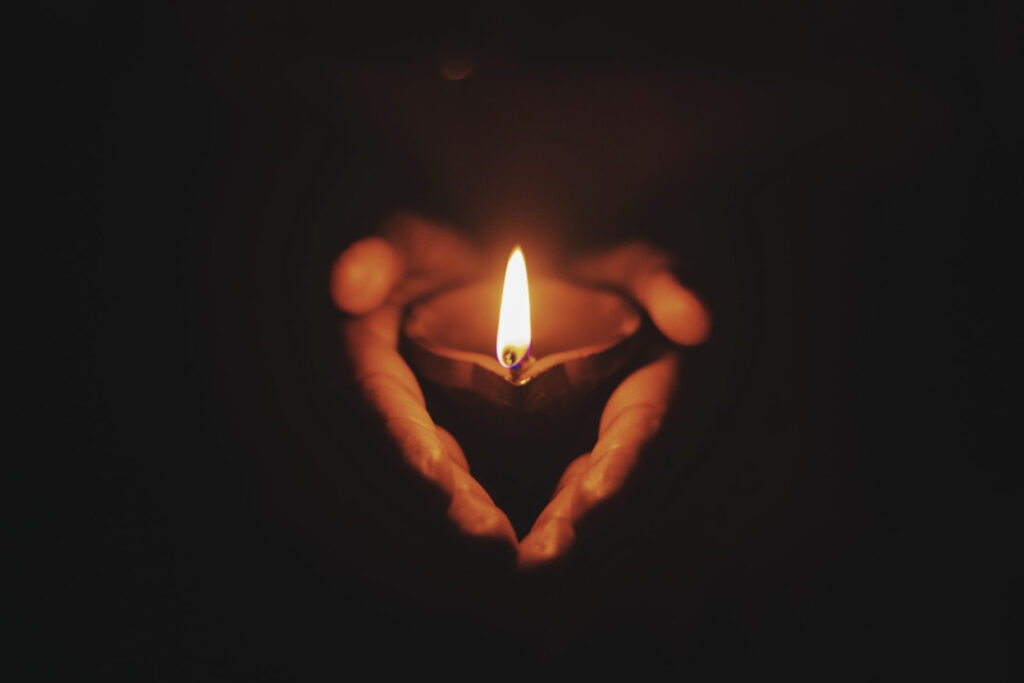 Photo by Prateek Gautam of Unsplash
As December is the calendar end of the year for most of the northern hemisphere, this month holds many rituals and traditions associated with the ending of the cycle and the beginning of a new one. The winter solstice (December 21st) arrives when our hemisphere is tilted away from the sun and reaches its most extreme angle.
Experts agree that 'rituals foster a sense of belonging and identity and are especially important for children with insecure attachments. Children from families with meaningful rituals do better academically and socially.' The people of Colorado Springs have several traditional observations to mark the end of the year. Of course, there are the commercial/secular and spiritual aspects of Christmas, as we celebrate the hope of salvation in new life. Still, there's also spirituality and steadfast faith in Hanukkah's Festival of Lights that our candles will hold out, and in Kwanzaa, which celebrates family unity in the creation of new traditions to replace those deep cultural rituals lost to the evils of slavery. 
All three of these holidays center around survival against oppression and terrible odds. They are moved from their natural place on the calendar to mark a time when we most need to remind ourselves that the long nights of December will soon pass as Mother Earth tilts back into position slowly, and Spring returns in a few more months.
With the advent of COVID19, we've had to let go of many traditional rituals that sustain us and guide and comfort our children, like trick-or-treating in October, or large extended-family meals for Thanksgiving, to protect our kids and each other. These traditions are essential for children and families, and as we lose them, we must take care to replace them, using the spiritual core of Christmas, Hanukkah, and Kwanzaa to guide us in how to do this.  Even if your family is not particularly religious, there are many elements of these holidays which can help your family bond during these strange times.
Rituals are an essential part of child development. The American Academy of Pediatrics calls our rituals' powerful organizers of family life that offer stability during times of stress and transition'. 2020 would certainly be categorized as a time of stress and change. Human beings need the rhythms in our life to remember how to dance through the dark hours. As parents, our children need to see us dancing, and cherishing the rituals and traditions of the season.  The children need to know that even though things are hard now, we believe everything will be fine.
As we reach the end of the darkest days of the year and reach a new beginning with the promise of spring, let's work to create stronger rituals and develop deeper connections with our children.  The simplicity of being at home more with our families and being more present when celebrating holidays is good for children. Consider adding some of these rituals from across the world as things you can do to see out a hard year on a positive note, with a teaching moment for good measure:
Martinmas:

a celebration of a patron saint of France,

St. Martin du Tours

, that teaches kids the value of sharing and sheltering with each other so that we all survive and thrive.  If your family is not religious just take the message of sharing and sheltering each other and run with it.

Santa Lucia Day:

a

special ceremony of making bread

that reminds us that there's enough for everyone and that

we all can take part in the ritual of looking after each other

.  The religious aspect can be honored or removed to suit your family's needs.

The Spiral of Light:

a tradition

to mark the Winter Solstice

in seeing out the darkest day of the year.  This is a great way to sneak in an astronomy lesson and to celebrate the coming of more light each day.  
We hope that whatever rituals you and your family see out 2020 with, you enjoy them together and in safety this year. If you'd like to discuss a place at Creekside Kids for them, we'd like to invite you to click this embedded link to schedule an appointment. Let's get to know each other! We're located at 1201 W. Cheyenne Road, Colorado Springs, CO 80906, and we can be reached at (719) 635-9111. Our normal hours of operation are 6:30 AM until 5:45 PM, Monday through Friday; however, we have a shortened schedule during COVID of 7:00 AM to 5:30 PM.