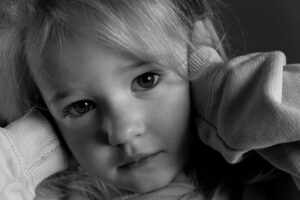 Most parents know the difficulty of separation anxiety, a normal developmental phenomenon which comes and goes through all stages of childhood. We've experienced the crying that begins as soon as you make a motion to the door, and felt the primal sense of guilt and worry about the "abandonment" of our children that comes with leaving them, even in the best hands. Separation anxiety is common in preschool age children and it's a struggle for both parents and children. It often comes and goes over many months even when the child is being left with the same people he/she has been cared for regularly.
The moment of parting can be a very difficult time for both the child and the parents. Many kids feel betrayed or scared when they have to part with their parents, and it's not easy– especially for first-time parents– to leave a sobbing child behind. Parents often feel helpless and guilty during this time. This very normal experience is important to go through even though it can be extremely stressful for everyone.  
Here are 9 steps that might help you and your child with separation anxiety:
The first step is acknowledging that the feeling is normal. It's okay for your child to feel sad or scared when you leave them, and it's important to talk about those feelings. Validating their emotions will help your child feel understood. Equally, it's okay for you to miss them and to admit to yourself that your day would be happier with them.
The second step is to talk about the place you're leaving them and the people you're leaving them with. Explain to your child what they can expect when they come to a sitter's, or Creekside Kids, or when leaving them home. Describe the activities they will do and the people they will meet, so that they can begin to concentrate on the adventure ahead of them, knowing that they'll see you afterward. The shifting of gears in your child's mind will help you accept the separation, too.
The third step is to make a good-bye ritual. This can be something as simple as a hug and a kiss before you leave. This will help your child feel loved and secure, and will reaffirm to you that your child isn't losing any love for you as you part ways.
The fourth step is to be consistent. Separation anxiety can be triggered by changes in routine, so it's important to be consistent with your drop-off and pick-up times. One of the best ways to make your child understand and believe you will return is to consistently turn up when you say you will. Because this isn't always possible, it's important to acknowledge when you are inconsistent. Make sure they understand that it had nothing to do with any tantrum they had or accident; let your child know that sometimes, Mommies and Daddies fail to keep their word, and all we can do is try to make it up to each other.
The fifth step is to give your child a comfort item. This can be a blanket, stuffed animal, or toy that they can keep with them during the day. It should be something they can readily associate with their family and connect them, even when you're apart.
The sixth step is to stay positive. When you say goodbye, tell your child that you'll see them later and that you're looking forward to hearing about their day. As much as it may help your child, this will help give you the strength to leave.
The seventh step is to avoid sneak departures. While this helps you avoid drama, this will only increase your child's anxiety, and feelings of betrayal. And kids catch on, and it will make separations that much harder. You should never try to outsmart your child, because sooner or later, they're going to beat you at your own game.
The eighth step is to make sure the caregiver is prepared. Before you leave, introduce your child to the caregiver and explain what they can expect during the day. All kids, at some point, learn to say, "You're not the boss of me." But it can reassure a child to see and hear you making certain that their special needs are in place and that they haven't been forgotten in the hand-off shuffle.  You can also ask that the caregiver send pictures or texts when the child calms and settles in.  Some children take only 2-3 minutes and others take 30 minutes or more.  Each child is different.
The ninth step is to be patient. Separation anxiety is a normal part of development and it will eventually go away. These steps may not help immediately, so don't give up if there's pushback. Consistent work towards normalizing separations is possible if you remain consistent and don't give in to tantrums or parental anxieties.
Sometimes, it helps to talk to other parents. Separation anxiety is a common experience, so talking to other parents can be helpful. You can share tips and find support from others who are going through the same thing. If your child's anxiety is severe or interfering with their daily life, it may be time to seek help from a mental health professional. Seek help from a counselor or child's mental health professional if the anxiety persists. 
Separation anxiety is a normal part of development and it will eventually go away. In the meantime, these 11 steps may help you and your child through this difficult time. If you'd like to discuss a place at Creekside Kids for your kids, we'd like to invite you to click this embedded link to schedule an appointment. Let's get to know each other! Like us on Facebook to follow our stories for news and updates. We're located at 1201 W Cheyenne Road, Colorado Springs, CO 80906, and we can be reached at (719) 635-9111. Our new hours of operation are 6:45 am until 5:45 pm, Monday through Friday.